Media & News
8 March, 2018
MedEarth assists the Rural Empowerment Action for Community Healthcare (REACH) project in Burundi
MedEarth has assisted the Rural Empowerment Action for Community Healthcare (REACH) project in Burundi by providing much needed and life saving medical equipment and supplies. 10 hospital beds, 2 birthing beds, ventilators (adult and paediatric), an ultrasound machine, infant warmer and walking aids are on their way to disadvantaged communities in Burundi to provide better care and life saving interventions to those in desperate need.
29 January, 2018
Essential patient post operative supplies recovered by MedEarth arrive at Calsto Care, Zimbabwe
11 palettes consisting of 150 cartons totalling 2160kg of much needed unused stoma therapy supplies that were saved from landfill by MedEarth have arrived at Calsto Care in Bulawayo, Zimbabwe. These stoma therapy supplies greatly improve the quality of life of the patients being cared for at the centre who have had bowel surgery.
This is an initiative started by Ron Kaplan, who had for many years worked tirelessly with generous donors and Calsto Care to ensure the much needed unused stoma therapy supplies were saved from landfill and were sent to Zimbabwe. Ron has now entrusted MedEarth to carry his legacy forward.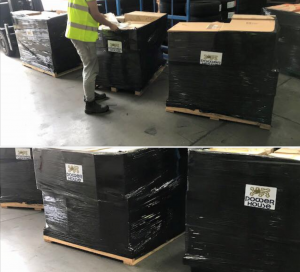 20 December, 2017
The year finishes on a high with MedEarth packing a 40 foot container for DAISI bound for the Solomon Islands
2017 ended with over 20 volunteers packing a 40 foot container for Doctors Assisting In South-Pacific Islands bound for Kilu' Ufi hospital, Auki, Malaita, Solomon Islands. The shipment included medical equipment & supplies donated by various hospitals in NSW thus diverting the items from landfill. The Rotary Club Of Berrima District(MAFO) sponsored the shipment and organised logistics.
3 May, 2017
Essential medical items recovered by MedEarth arrive at Queen Elizabeth Central Hospital
In February MedEarth volunteers packed a 40 foot container with medical items recovered by MedEarth from various hospitals in Sydney.
This was a project of Lesley Sutton's with MAFO (Medical Aid for Oceania and Worldwide) and its principal club the Rotary Club of Berrima District Inc yet again taking responsibility for the shipping and organising all the associated logistics. The container was shipped to Blantyre, Malawi (via Mozambique) and arrived at the Queen Elizabeth Central hospital this week.
Without MedEarth these items would have been destined for landfill instead of now enhancing the care and healing of the patients at the very under resourced Queen Elizabeth Central Hospital (QECH).
Please read the thank you letter we received from Chirafund which supports the QECH.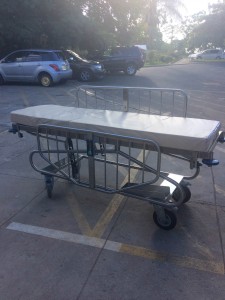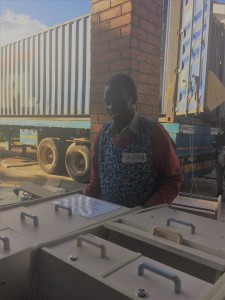 17-23 April, 2017
The trolleys, anaesthetic machine and the hospital equipment used in the GIZO Hospital shown in the video below were recovered and donated by MedEarth.
https://m.youtube.com/watch?feature=youtu.be&v=AurQu_BthgY
28 February, 2017
The shipping container being unloaded by DAISI in NRH & GIZO.
https://m.youtube.com/watch?v=qJKTXiyTbOU&feature=em-upload_owner
2 February, 2017
Helena Goldie Hospital thanks MedEarth for life saving equipment
George Tora, the hospital secretary at Helena Goldie Hospital in Munda, Solomon Islands has written a letter of thanks to the directors of MedEarth for the life saving equipment shipped to them by MAFO (Medical Aid for Oceania and Worldwide) and installed by Doctors Assisting in Solomon Islands (DAISI). All the equipments is fully operational and is already having a huge impact to the health care they can provide. The equipment recovered by MedEarth includes an anaesthetic machine, operating tables, theatre lights and c-arm x-ray machine and more.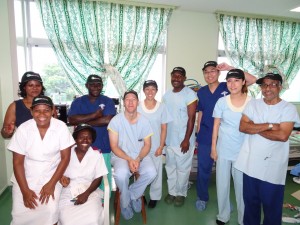 18-19 January, 2017
The MedEarth recovered and donated operating table, diathermy and anaesthetic machine are being put to use, to save lives in the HELENA GOLDIE HOSPITAL, MUNDA
https://m.youtube.com/watch?v=laj_e3sQQKQ
16 September, 2016
Saving thousands of lives and diverting waste from landfill
1 Million Women have posted a blog about MedEarth making an impact to the environment and to thousands of lives.
27 June, 2016
MedEarth fills 40 foot Container going to GIZO Hospital in the Solomon Islands
Doctors Assisting in Solomon Islands (DAISI), working with MAFO (Medical Aid for Oceania and Worldwide) and its principal club the Rotary Club of Berrima District Inc who took responsibility for the shipping and logistics, are shipping a 40 foot container to the Solomon Islands, the content of which is predominantly usable medical equipment and supplies recovered by MedEarth. The patient beds, operating tables, anaesthetic machines, c-arm, laparoscopic stacks, infant humidicrib, theatre lights, steriliser and various other medical equipment and supplies are heading to Gizo Hospital. All of these items would have been disposed of as landfill waste if not recovered by MedEarth.
The packing of the container at MedEarth's warehouse (sponsored by Panavision) was a combined effort by volunteers from both MedEarth and DAISI. DAISI is hoping that the container will reach Gizo in time for the next batch of surgeons and anaesthetists who are planning on spending a week operating there from 24-30 July.
26 May, 2015
MedEarth Gives Anaesthetic Machines to FijiOz to send to Nadi Hospital
MedEarth recently packed a 20 foot container with four anaesthetic machines and various other recovered medical equipment and supplies for FijiOz to send to Nadi hospital in Fiji. The response from the staff at Nadi hospital says everything…
We are currently renovating the Nadi hospital and when the container arrived and the doctors and nurses saw the equipment they cried and cried. They couldn't believe what you had donated. The 4 anaesthetic machines will save so many lives and when they saw the ECG box, wow that was a godsend. I can't thank you enough.
MEDIA RELEASE – 3 February, 2015
MedEarth Gives Vital Medical Equipment to a Medical Ship Bound for Papua New Guinea
A Youth With A Mission (YWAM) medical ship being refurbished for a lifesaving voyage to Papua New Guinea (PNG) has received one of five anaesthetic machines that have been saved from landfill by MedEarth.
MedEarth, an environmental protection charity, collects usable medical supplies and equipment destined for landfill and redistributes them through partner charities to areas of need in developing countries. MedEarth has no religious or political affiliation or bias.
YWAM Medical Ships – Australia (YWAM MSA) is a Christian charity that aims to care, connect, serve and build with individuals and communities. YWAM MSA values individuals' rights to quality of life.
YWAM MSA Managing Director, Ken Mulligan OAM commented: "Papua New Guinea is a nation with many communities that lack basic medical facilities that are readily accessible to larger cities. The MV YWAM PNG is being refitted with on-board facilities offering simple treatment of infection to life changing cataract surgeries."
Mulligan added, "Thanks to the generous support of MedEarth, we are well on our way to fitting out a surgery on this desperately needed medical ship for the people of PNG."
MedEarth CEO, Michelle Bootcov commented: "MedEarth is delighted to provide support for such a worthwhile cause. Like us, YWAM MSA is entirely staffed by volunteers who provide this valuable service to those most in need."
Bootcov added: "Each year a huge amount of usable medical equipment and supplies find their way as solid waste into landfill in Australia. Not only is this an impost on the environment, it is also an intolerable situation when such equipment could be utilized to deliver lifesaving health care."
YWAM has operated around the globe now for over 30 years delivering healthcare with some of the largest ships of mercy in the world, operating in the Pacific since 1991. The MV YWAM PNG was formerly a passenger ship but is being transformed into a medical ship to provide healthcare, and medical training. The MV YWAM PNG is operated out of Townsville Australia.
The inspiration for MedEarth in Australia comes from MedWish International in the United States and its passionate founder Dr. Lee Ponsky. In over 20 years MedWish has recovered more than 1.4 million kg of medical surplus from nearly 70 hospitals. In 2013, as part of their waste reduction program, MedWish shipped 199 containers of life saving supplies and equipment to 90 countries and engaged the help of 38,944 volunteers.
For further information or commentary, please contact:
Jeremy Hyman
MedEarth
Ph: 0449 953 890
Email: admin@medearth.org
Website: www.medearth.org