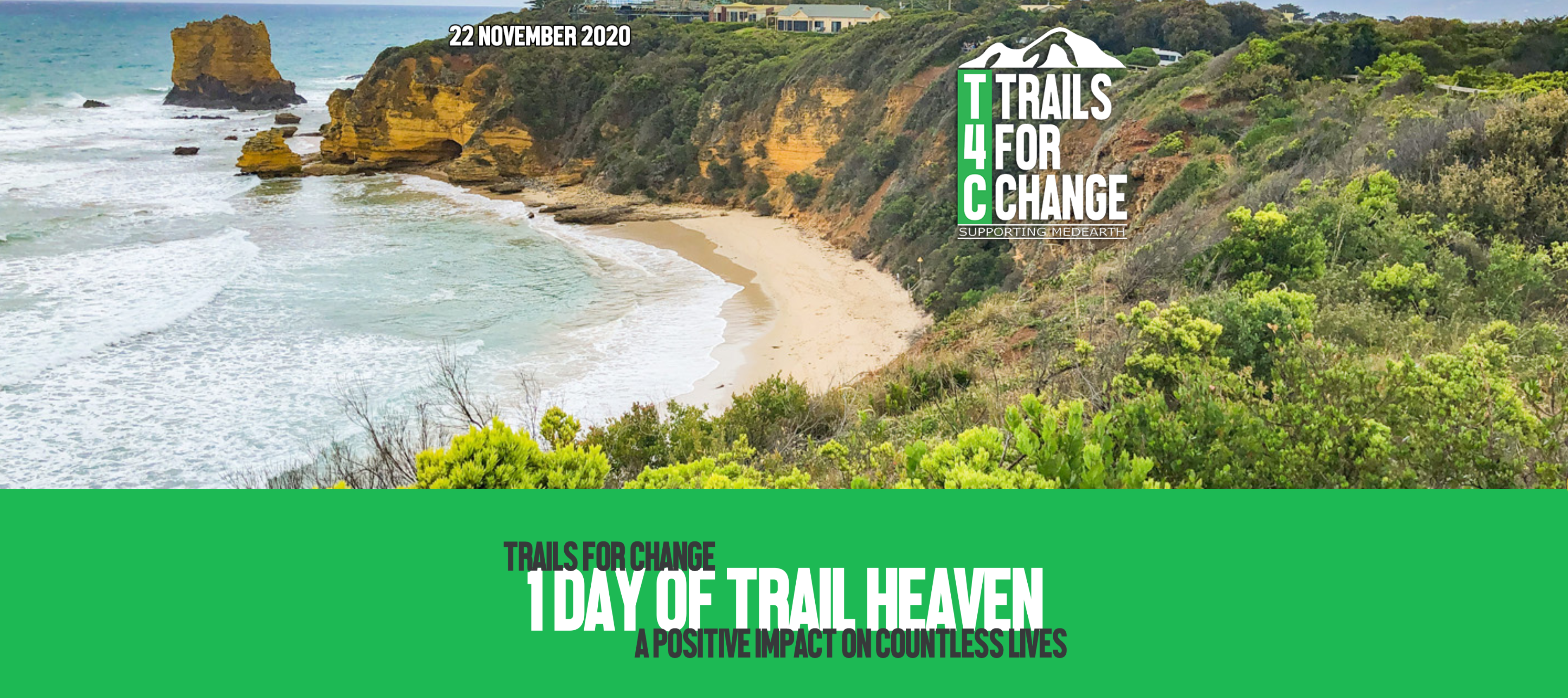 Trails for Change 2020
Registrations are now open!
We hope that you and your families are all keeping safe and well during these challenging times. Whilst we know that events are certainly not on the agenda right now, we are excited to be seeing a few spots of light at the end of the tunnel. Hopefully, Australians will continue to work together to make this happen.
Unfortunately many of the organisations and countries that we support are not so fortunate. They are in desperate need of the medical equipment and supplies that we provide, and we feel a strong obligation to do whatever we can to help them get through this global health crisis. We hope that you will be up for the challenge of participating in T4C 2020 and that we can count on your support to make this possible.
In keeping with the positivity and optimism in Australia, we have kept forging ahead with our plans for the 2020 edition of T4C. After a fantastic 2019 event in the Grampians we are shaking things up a bit this year, with a new location and duration.
So this year's event will be a 1-day event for all ages held on 22nd November. We are heading back to the coast again, but keeping things more local by heading to the the breath-taking Coast Track in the Royal National Park in NSW. There are 30km (Otford to Bundeena) and 20km (Garie Beach to Bundeena) course options.
To date T4C participants have helped raise $250k for MedEarth and this year we have a $50k target. Visit https://www.trailsforchange.com.au/ to register or find out more.
Financial Support & Corporate Sponsorships
Please consider making a personal or company donation or to find out more about the different levels of corporate sponsorship please contact us.
Volunteer your Time
Volunteer to sort and pack supplies at our warehouse. Kids are welcome!
Volunteer to pick up supplies and small equipment from hospitals.
Volunteer to help pack a container going to one of our beneficiaries.
You can volunteer as a once off or be part of a volunteer roster.
Donate Equipment & Supplies
Any hospital or clinic can donate usable medical equipment and supplies as a once off or on a regular basis. MedEarth will work with you to arrange delivery from your facility to our warehouse. If you have items to donate please contact us.
Services in kind
We welcome any pro bono support or donations in kind such as:
Accounting and auditing services
Preparation of annual reports
Video and recording services and equipment
Advertising
PR and marketing services.
Use of drivers and trucks for picking up medical supplies and equipment.
Please contact us to discuss how you can get involved in partnering with MedEarth to contribute to the sustainability and health of our planet and its citizens.